The "Diagonal of the Void"
(version française plus bas)
"La diagonale du vide" (the diagonal of the void). That's how geographers call the space that goes from the south-west to the north-east of France (from Biarritz to Grenoble). It's mostly composed of quite sparsely populated rural areas (hence, the name).
I was born and raised in the center of this diagonal, in a very rural country called the Limousin. It's exactly as you might imagine: no car-traffic, no tourists, a lot of rain and fog, and a very traditionalist, superstitious, population (when you have the chance to come across a human being, that is).
Some people tentatively compare the place as the rain forest, but it's noticeably colder and less welcoming.
The pagan history is still very visible when you go there, with its magnificent forests of oak and chestnut-trees that turn every shade of red and yellow when October comes, or the old Celtic sites with evocative names such as la pierre aux neufs gradins (the nine-stairs stone) or la rigole du diable (the gutter of the devil).
We wanted to tell a story that wasn't set in the USA for a change.
When we began talking about Along the Edge with Nico, we were tired of three years working on Echoes, which was set in a very familiar place for any enthusiast of modern pop culture: the United States of America. That's why I proposed to hit quite closer to home on the next one, arguing that even if it wasn't exotic for us, it must be completely alien for at least some of our audience, and that I was always told that one should always write about something one knows.
That's how Along the Edge came to be a chronicle of very urban young woman who tries to find her footing in a very rural countryside, and even if I'm personally quite at home there, really I hope this story will make you travel to uncharted territories.
So, I went on a field trip…
The issue was that Nico, as most people, never set foot in this particular countryside, so he was pretty much sailing in terra incognita too. So I did what any amateur photographer would do. I armed myself with my old analog Canon EF camera, put on the wide-angle 28mm lens, and I went on a couple of field trips. Using a stock of expired rolls of Reala 200 I had lying around in my fridge (out of budget concerns rather than going after a particular look, but the gloomy feel of these slightly under-exposed shots turned out quite well, if you ask me), I took about a hundred of shots of the area in late May and in August. Nico used them either as a visual reference or for matte painting, so some of the shots are actually in the game.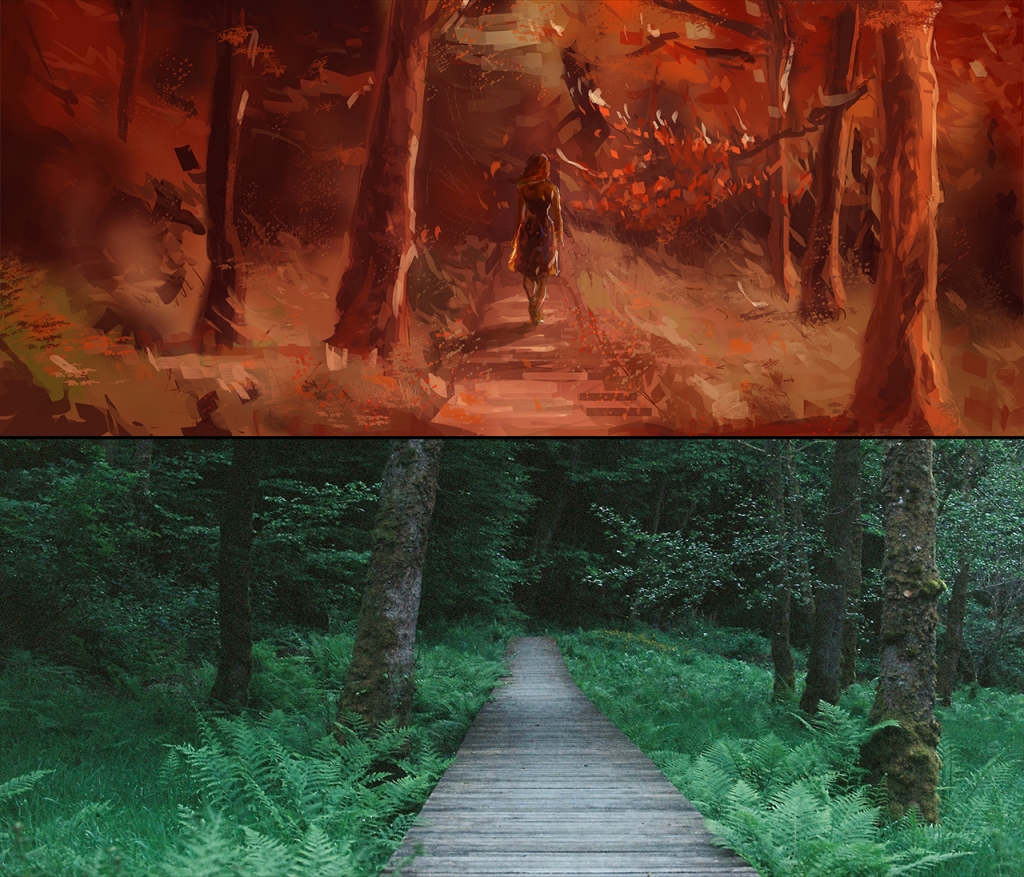 ---
"La diagonale du vide". C'est comme ça que les géographes nomment l'espace qui va du sud-ouest au nord-est de la France (de Biarritz à Grenoble). La zone est principalement composée de campagnes faiblement peuplées (d'où le nom).
Je suis né et j'ai passé les vingt premières années de ma vie en plein milieu de cette diagonale, dans la région très rurale du Limousin. C'est exactement ce que vous pouvez imaginer : pas de traffic routier, pas de touristes, beaucoup de pluie et de brouillard et une population, quand vous avez la chance de la croiser, qui est restée très traditionnaliste et supersticieuse.
Certaines personnes parlent même de "l'enfer vert" pour désigner la région. C'est en gros l'Amazonie, mais avec un climat plus rude, et en un peu moins accueillant.
L'héritage gallo-romain y est toujours bien vivant, que ce soit par les magnifiques forêts de chênes et de châtaigniers qui se parent d'un camaïeu de rouges et d'orangés quand arrive l'automne, ou par les sites celtes aux noms évocateurs, tels que la pierre aux neufs gradins (lien wiki) ou la rigole du diable (lien wiki aussi).
Nous en avions un peu assez de raconter des histoires qui se passent aux Etats-Unis.
Quand nous avons commencé à discuter d'Along the Edge avec Nico, nous venions de passer trois ans sur notre jeu précédent, Echoes, dont l'histoire s'inscrivait dans un référentiel spacio-temporel très connu des amateurs de pop culture moderne : les Etats-Unis d'Amérique. C'est pour ça que j'ai proposé que nous jouions à domicile pour le suivant, en argumentant que bien que ce ne soit pas très exotique pour nous, ça le serait forcément pour une partie de notre audience, d'autant plus qu'on m'avait toujours dit qu'il fallait écrire à propos de ce que l'on connaissait.
C'est comme cela qu'Along the Edge a été conçu comme la chronique d'une jeune femme qui essaie de trouver sa place dans place dans un environnement tout autant rural qu'elle est urbaine. Et, quand bien même, je me sens plutôt assez chez moi dans cet univers, j'espère ardemment que cela vous fera voyager dans des territoires inconnus.
Je me suis rendu sur place…
Le problème étant que Nico, comme la plupart des gens, n'a jamais mis les pieds en Limousin. On s'est rapidement rendus compte qu'il naviguait en terra incognita lui aussi. J'ai donc fait ce que tout photographe amateur aurait fait à ma place. Je me suis armé de mon vieux Canon EF argentique, j'ai enfilé l'objectif 28mm grand angle, et je suis allé prendre des clichés sur place. J'ai utilisé quelques rouleaux de Reala 200 périmée qui traînaient dans mon réfrigérateur (pour des questions d'économies plutôt que pour le look de la pellicule, mais le caractère un peu glauque des prises de vues qui sont sorties légèrement sous-exposées collent pas mal à l'atmosphère du jeu, comme d'un heureux hasard). J'ai pris une petite centaine de clichés sur deux sessions, fin mai et début août. Nico les a utilisées soit comme référence, soit pour faire du "matte painting", ce qui fait que certaines de mes photos se retrouvent au final dans les décors du jeu.